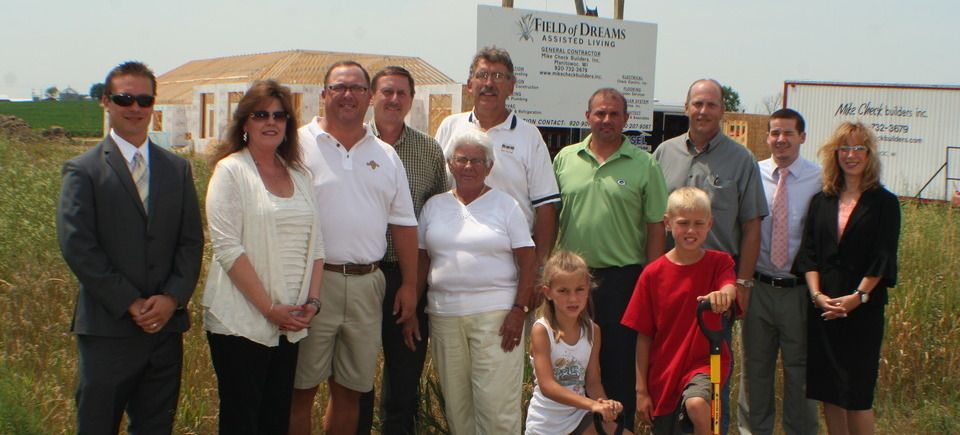 Field of Dreams breaks ground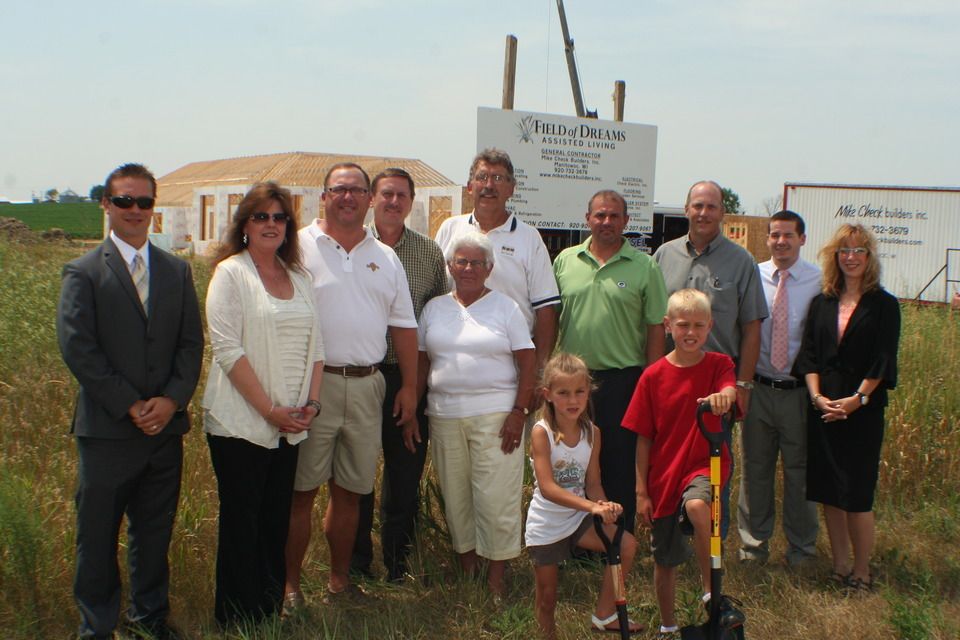 The city of Kiel is going to be home to a new 13,000 square foot Community Based Residential Facility (CBRF) home for today's seniors at 505 Belitz Dr.
While under construction several key people gathered Monday to help start the vision and passion of what Field of Dreams is about. Present for a ground breaking event were Branden Boerner, office president of Community Bank and Trust, Elkhart Lake branch; Dawn Rossetti, vice president, Community Bank and Trust, Sheboygan branch; David Langemak, business consultant; Dennis Dedering, City of Kiel administrator; Julie
Lewis, co-owner and ambassador for Field of Dreams; Michael Check of Mike Check Builders Inc.; Scott Lewis, business and building operator for Field of Dreams; Robert Werdeo, mayor of Kiel; Nate Volkomener, CPA of Huberty and Associates, and Deborah Bozikowski of Ansay & Associates. Also present was the future generation, the Lewis children, Mason and Ellie.
"It is the Field of Dreams vision and passion here in Wisconsin, where we have roots, and where fields can stretch from one horizon to the other, and where generation after generation appreciates those things, that make life around here so rich in so many ways," said Lewis. "And in that spirit of quality, Field of Dreams is where the good life continues — even when a little help is needed. Field of Dreams recognizes the value of each individual, addressing the unique physical, emotional and spiritual needs of each resident and their family."
The quality caring nursing staff and RN/Administrator will provide round-the-clock care in our 20 room all private 24 resident home. With rooms 1, 8, 9 and 20 being double occupancy for those in need. Each resident has a personal bathroom and scenic views of the peaceful fields and countryside, both from within, and from the outdoor patios, and gardens. Residents will enjoy homemade meals, on-site therapeutic activities, personal cares and socials, and church services for all denominations. The home will also have a beauty/barber facility inside.
"At Field of Dreams we partner with each resident to create a personalized plan, tailored for their specific needs. We respect each resident, empowering them to make choices, relationships, and dreams.
"Field of Dreams creates a place for people who want to live in an atmosphere that is calm, comfortable and pleasant. We are committed to helping you or your loved one continue living life with meaning and purpose," Lewis said.
Mike Check Builders is on course for a fall of 2012 opening with the required state inspection. Resident applications and inquiries are being accepted. For more information about quality assisted living with dignity and independence at Field of Dreams Kiel, call or 920-286-6189 or email us at
fieldofdreams_als@yahoo.com